The best way to attract business is LinkedIn. Facebook and Instagram are jam-packed with entertainment. So why do we often hear only  YouTube, Facebook and Instagram as preferable options for video marketing?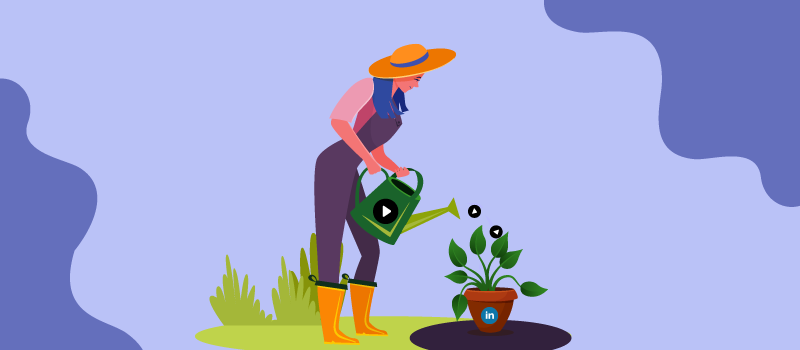 Why not LinkedIn?
LinkedIn joined the fray by introducing native video to their platform. Let me tell you that LinkedIn can be considered as a stellar opportunity for marketers to share their Animated explainer videos. LinkedIn can be an easy medium that the marketers can consider if they want to reach their professional audience by targeted  B2B videos.
Up until this point, we could only embed YouTube videos in the posts and share links but it did not attract any engagement.
" The LinkedIn team is now claiming that the new Animated explainer video posts get shared more often than regular posts "
Well, this probably means that if your audience hangs out on LinkedIn, it's time to start adding an animated explainer video to your marketing strategy. 
" LinkedIn has over 350 million registered users "
YES! It's a huge base. Plus, with the platform's focus on building professional connections, what can be a better place to grab attention and attract new customers?


Creating a killer Animated Explainer Video within LinkedIn's video specs
LinkedIn videos can run between a time frame of 3 seconds and 10 minutes, but I would suggest length for maximum engagement sits between 30 seconds and 5 minutes. Both landscape or portrait orientation videos are fine where the max file size cannot exceed 5GB.
—-
Start with a BIG BANG.
First impressions always count. You've only got a few seconds to grab your viewers' attention, so make sure you use appealing colors and make an audacious entrance.
Keep it short
. 
While we don't have much data about viewing habits yet, we know that LinkedIn users tend to be occupied, so create brief, compact videos that get straight to the point.
Be yourself.
The video makes it easier to establish a personal bond quickly. It allows our temperament to come through and counterfeits a real-world chat. Don't be scared to make a quick video on your phone about something your network will appreciate —after all video is about connection, not perfection.
How an Explainer animated video can help you establish rapport with your customers
Make a couple of explainer animated videos to show people more about what you do and what you stand for. Tell your customers about your business, share an animated story to grab their attention about a specific product, or show a product in action.
So, you decide to give the LinkedIn video a shot. And that leaves you with just one question: How do you get started?
Motionvillee is the best animated explainer video company that strives to help companies to define astounding creative solutions to improve and enrich any strategy and communication demands.